the DreamBody Challenge
with Branden Hayward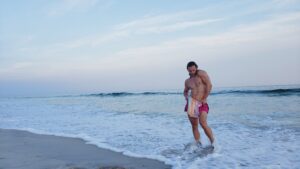 WHY
1. You want a porn-star's body.
2. Protecting vulnerable Queer people sounds good to you.
WHAT
The DreamBody Challenge is a comprehensive, six-month online physique coaching program that I created in March of 2019. I've guided over 40 people through the Challenge since its inception.
A portion of the proceeds from the Challenge are donated back to the LGBTQ+ community.
To date, we have donated $1,200 to The Trevor Project.
SAGE, America's oldest and largest non-profit organization dedicated to improving the lives of aging LGBTQ people, is being considered as the beneficiary of the upcoming Challenge.
WHEN
The Fall/Winter 2019-2020 Challenge runs from September 23, 2019 – March 18, 2020. (The first day of Autumn through the last day of Winter.)
Enrollment will only take place between September 18 and 22, 2019.
Not a member of my email subscription?  Click here to become one, and simultaneously qualify for the Challenge.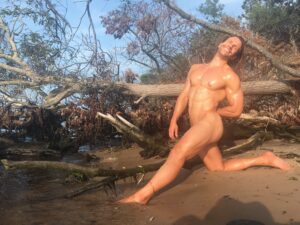 WHERE
Anywhere in the world, as the entire process takes place online
WHO
This program is for anyone, regardless of age, experience, or gym access, who is ready to make the lifestyle and mindset changes requisite to step into the power, confidence and joy that is their birthright.
The program is designed with aesthetics and SUSTAINABILITY as the two chief concerns, and aims to set every student on the path for developing and keeping the best body of their life, regardless of whether you continue after March of 2020. The individualized nutrition coaching will dictate whether you gain muscle, lean down, or both.
This program was inspired by the man who is at an emotional and spiritual crossroads in his relationship with himself. Wonderful things … things he had only dreamed of just years ago … are already blossoming in his career and personal life. He has put a great deal of sweat equity into building a physique that others admire.
He knows that something is missing. A Dream is unfulfilled. He possesses hard-earned wisdom, so he knows that earning the body of a top pornstar will not grant him a perfect relationship with himself for the rest of his life. But, he also knows that if he can actually … finally … earn this body… his DreamBody … while developing the tools and habits to SUSTAIN it… then, unflappable self belief will finally be his.
And everything else that he wants in life is on the other side of this unflappable self belief.
This pornstar/DreamBody is, for him: broader, more chiseled shoulders, pecs and arms; a smaller waist with prominent abdominal muscles; and a high, bubble-ass.
HOW 
1. TRAINING APP 
I individually coach each client in the Challenge. I guide each client through five distinct weight training phases, customized dietary recommendations, AND help them develop lifestyle coach each client on how to sustainably, gradually implement lifestyle changes that remain with them long after they have finished the Challenge.
Through the app 'Trainerize,' I deliver five distinct workout phases over the course of six months:
Endure
Fortify
Bloom
Equality
Reclamation
The names of each of the phases reflect two touchstone elements of the Challenge.
First, the phase title encapsulates the primary physiological challenge you'll be faced with in that particular phase.
Endure builds muscular endurance. Fortify develops strength. Bloom focuses on muscle growth. Equality works to diminish asymmetries and imbalances. Reclamation is a vital, oft-overlooked period to get the client back to their natural postural and structural alignment. Doing so helps the individual avoid injury and grow faster in subsequent work.
In addition, Endure, Fortify, Bloom, Equality, and Reclamationeach represent a segment of the painful and exceptionally character-building journey that we each take to return to the self-love that is often stolen from us as children.
I can view, assess and give guidance on the results of each of client's workouts. Progress photos, measurements, and a private messenger are a few of the many features offered by the app that are included in the Challenge.
The app illustrates + describes each workout with written instructions and/or succinct, easy-to-digest videos.
2. THE NUTRITION APP 
'My Fitness Pal' is a second smartphone app that is synced to Trainerize, affording me the ability to continually monitor, assess and coach each client's individual nutritional intake. I will use this information to guide each client to make dietary changes in support of their goal.
MONEY-BACK GUARANTEE
There is a risk-free, 2-week-opt-out guarantee included in the Challenge. (Which has yet to be taken advantage of.)
Additionally, you may try the technology before enrolling.
More information can be viewed in FAQs at bottom of document.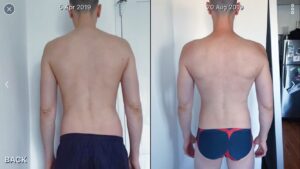 ABOVE: Client, 5.5 months' progress
PROGRESS TRACKING
Trainerize will walk you, the client, step-by-step through tracking your progress with photos, weigh-ins and measurements at consistent intervals.  Both myself and you will be able to easily view and easily compare measurements and photos. This will provide invaluable feedback for nutritional modifications.
DIALOGUE
We will begin your program with a 30-60 minute intake session over the phone. I will do a "deep dive" into your background, goals, and any special needs.
From there, Trainerize facilitates unlimited private messaging between coach and client. I will guide you through the Challenge using Trainerize.
I  guarantee I will respond within 2-3 business days to every message.  You will also have my cell phone number, if something requires urgent attention.
I will be holding Office Hours twice per week, for the first five weeks of the Challenge.
From the start of the Challenge through October 21, the office hours will be Sundays from 4:30 to 6 PM, and Mondays from 3:30 to 4:30 PM, Eastern Standard Time,
In San Fran and LA, these times will be 1:30 – 3 PM Sundays, and 12:30 – 1:30 PM Mondays.
In London, these times will be 9:30 – 11 PM Sundays, and 8:30 – 9:30 PM Mondays.
In Sydney, they will be 6:30 – 8 AM Mondays and 10:30 – 11:30 AM Tuesdays.
In Rio, they will be 5:30 and 7 PM Sundays, and 4:30 and 5:30 PM Mondays.
I will also be available by private phone appointment for the entire six months of the program, at no additional cost.
INVESTMENT
The investment for the DreamBody Challenge is $876.
A six-month physique transformation program – including nutrition coaching, combined with my signature, field-tested and progressive strength training workouts and ongoing one-on-one communication – is valued at $1,794, cumulatively.
Email subscribers save $918 off the sticker price, as a thank you for being a member of my community. 
Payment can be made via Venmo, or credit card.
For payment plan information, please see FAQ.
ENROLLMENT

ABOVE: Branden, 22 months' progress
FREQUENTLY ASKED QUESTIONS
1. What if I don't go belong to a gym, and/or want to complete this program entirely at home, and/or will have an unpredictable travel schedule that requires me to be away from my routine/gym on a regular basis?  
That's wonderful! I have worked with clients in this position before – and been there myself! IF YOU ENROLL and PAY BETWEEN WEDNESDAY 9/18 AND THURSDAY 9/19, I will have you completely covered. As long as you have: a bedsheet, a door that securely closes, a bed or sturdy chair, and thirty-five square feet to use, you will get the full benefits of each of the phases listed. I have designed travel workouts that correspond with each phase. I have tested each workout myself — with nothing but the equipment listed above — to ensure the results are compliant with my standards. You may perform the entire program without a gym, or switch back and forth — just notify me as your schedule changes, and I will make the necessary changes to your program!
2. What if I am a complete beginner and have never lifted a dumbbell in my life?
I would be honored to be your entryway into strength training! AND, since you haven't developed counterproductive habits in the gym already, your mind is perhaps more open to learning and following each detail of every movement. Believe it or not, this is a huge advantage! And, to your question, I have developed  a foundational (total beginner) version of each of the five phases, and will gladly guide you through this effective but safe introduction to lifting!
3. What if I am already confident at the gym, well built, powerful, have strength and muscle, and have a pretty low body fat — I can see my abs, or at least some of them … will this program do anything for me?
There is a reason you are reading this, and I'm guessing it's because you're having the tenacity to admit that you aren't satisfied anymore with just being good, and you're willing to take action to become great. I was just like you, actually. And, to be clear, I am far from being done growing, myself! Whether or not you get the results you want will primarily come down to your diet, and your willingness to make CONSISTENT changes to your lifestyle.
If you get adequate recovery, properly hydrate, continue lifting with safe intensity a minimum of three times per week, up to five times per week, completing at least 80% of every workout, and more often than not 100% of the workout, and follow my nutritional guidance, you should walk out of this program with a more muscular and more lean body than you came in with. You know, perhaps better than anyone else, that big results take longer when you are in better shape, so by no means will you be at your perfect DreamBody in just six months. You will, however, have made considerable progress towards it.
4. How many days per week is the program? I want to lift five days per week … or two … or I need flexibility from week to week.
I ask you to commit to two-three workouts (weightlifting) each week. There will be an optional fourth and fifth workout, which both provide opportunities to amplify and quicken the progress made in the first two-three workouts each week. There will be more emphasis on "accessory" muscles (biceps, triceps, calves, rear deltoids, inner pecs) during these fourth and  fifth workouts than compared to the first three, which are heavily focused on compounds movements that tax multiple muscle groups at once. The fourth and fifth workouts do contain plenty of challenging, meaningful compound movements, as well.
5. Cardio?
Cardio is optional and not a primary focus of the program for the first two phases, and becomes highly recommended for the third, fourth and fifth phases. IF YOU ENROLL and PAY BETWEEN WEDNESDAY 9/18 AND THURSDAY 9/19, it would be my pleasure to give you an individualized cardio routine during your first two phases.
6. If I stay committed to this Challenge, can you make any guarantees about the results I'll get? 
Yes. You will have a better body than the one you began with.
As with anything in life, you will get out of it what you put into it.
Many factors affect the speed and intensity of a client's results: sleep, hydration, diet, consistency of workouts, exertion during workouts, stress, etc. The largest factor that will determine your results is your own level of willingness to keep trying when things get difficult and inconvenient, which they will. I can tell you from personal experience that the thrill of seeing your DreamBody emerge makes the sacrifices well worth it.
Most of my coaching in this program revolves around helping clients identify habits that need to be changed, and then troubleshooting solutions when the consistent application of those habits proves challenging.
Therefore, I recommend this Challenge only for individuals who have a minimum of a 6 out of 10 commitment to change.
7. Can you give me an idea of what these apps are like before I commit to this program?
Absolutely. Write me an email back, and I'd be happy to send you an invite to Trainerize (you need an invite from a trainer to access the app), with a sample workout program, for you to begin using at the gym/home between now and your date of enrollment. Similarly, you may download My Fitness Pal on your own, and begin logging food. This will give you an idea of what the program will entail at the beginning.
8. I have injuries. Will this work for me?
It depends on the injury. I am well versed in working with clients living with common conditions like history of knee pain, shoulder issues, and herniated lumbar discs. If you have one of these conditions and run into an issue with one of the exercises, it will be my pleasure to send you a description and video of an alternate exercise, and/or talk you through a better way of performing the exercise. If you have other condition/s, please email me back and let me know! I can tell you what my experience is working with your issue.
9. What happens if I have an unexpected emergency arise that takes me away from the program?
For any unforeseen serious circumstances that remove your ability to focus on the program for more than two consecutive weeks, I will gladly put your training/coaching on hold. You may resume when you return, as long as you do so within 45 days. Your billing, if on a payment plan, will also be put on hold for a maximum of 45 days. You will be able to pick up right where you left off with your training.
Emergency conditions lasting less than fourteen consecutive days will be dealt with on a case by case basis, but in the majority of circumstances, no billing or coaching extension will be provided. It will be my pleasure to connect with you when you are ready to jump back in, and do everything I reasonably can to help you get going again as quickly as possible.
10. Are there incentives for referring friends to this program?
Absolutely! If you join the Challenge and refer a friend who does, as well, you will receive two free months of online coaching BEYOND the six-month Challenge. There is no limit to how many friends or months of training you may earn. 
11. Will you still be able to coach me, and will I still have the ability to get considerable results, if I am:
Lactose-intolerant? Yes, and yes.
Vegetarian? Yes, and yes.
Vegan? Yes, and somewhat. You may be better suited visiting a bodybuilding coach specializing in vegans. If this is the case, I'd be happy to help you find one. Just let me know.
Pescetarian? Yes, and yes.
Keto? I might advise working with another professional if you'd like to use the Keto diet (would be happy to help you find one!). Or, I might challenge you to consider letting me explain why I think carbs are so vital for any physique goal.
Carb-cyclist: Yes, and yes.
12. Is there a payment plan available? 
Yes.
$179 billed September 21
$179 billed October 21
$179 billed November 21
$179 billed December 21
$179 billed January 21
$179 billed February 21
Billing may take place 1-2 days before or after the specified date. If this presents a problem, please notify me before enrolling.
ONLY CREDIT CARDS ARE ACCEPTED FOR PAYMENT PLANS. The card must expire no earlier than May of 2020. If enrolling in a payment plan, a client may not remove a credit card from their account once they have provided it, but a new card may be added at any time.
13. What is the information regarding the two-week opt out guarantee?
If you apply yourself fully to this program for the first two weeks, but decide it isn't for you, I will refund all of your money, if you inform me of this request  in writing between October 7 and October 10.
I want to be very clear here. You will absolutely see results if you fully apply yourself to each workout and nutritional modification I provide you with. This program does not require perfection — those who comply even 80% with my workouts and nutrition will see and feel results by the end (although I recommend 90% or higher compliance, without a doubt!). Since a tremendous amount of personal time will be put into this challenge on my part, I want to ensure that each client is fully committed to the program. I am able to track each client's workout and food logging, and will only provide a refund for the individual who has completed each assigned workout within a day of its' assignment, and begun logging their food on a daily basis.
I want you to feel completely comfortable enrolling in this program, and at the same time I want you to only enroll in it if you are ready to give this your honest, best go.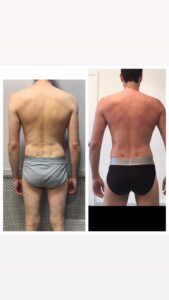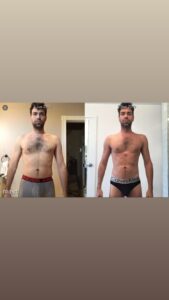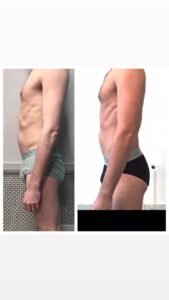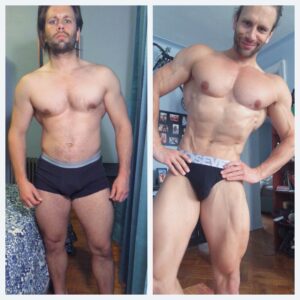 Want more information before subscribing or enrolling?
Click here for a Detailed Overview of the Challenge, including Progress Photos
Click here for exclusive access to my Vault  of past Build-your-Self articles. For your eyes only – please don't share! This is a great way for you to get a sense of my personality, professionalism, consistency and experience, before raising your hand to become a member.
Click here to visit my homepage to view (well-known) client testimonials, a list of my credentials, my origin story, and other services I offer.