DreamBody 2021
Get 10 + pounds of body composition improvement in 1 year, or less.
Guaranteed.*


Why DreamBody?
Do you just need a proven roadmap for successful bodybuilding?
Is your 'fire' to change finally greater than your fear of change?
Have you felt low-key (or high-key) heartbroken when you lost beautiful results in your physique … cuz your routine was unsustainable?
If you answered 'yes' to one or more of the above questions, DreamBody may be for you.
---
What is DreamBody?
DreamBody is a completely online journey.
It contains three features designed to help you to build and sustain a physique that makes people wonder if you did Human Growth Hormone.
Each of these three standard features replenish annually — at no additional cost to you — for as long as DreamBody School is existence. These three features comprise the standard version of DreamBody, known as DreamBody Evergreen. 
You also have the option of adding a fourth feature to DreamBody Evergreen, which would elevate your enrollment to DreamBody All-Access. 
If you follow the map laid out in DreamBody Evergreen, you will be given the resources to wake up to the miracle, every day, for the rest of your life.
Read on to learn about the three standard features in Evergreen, as well as the bonus feature associated with All-Access.
---
1. DreamBodybuilding Workout Calendar
DreamBody gives you exclusive membership to my signature, interactive DreamBodybuilding Workout Calendar — and all the remarkable progress-tracking features that come with it.
Over the course of 12+ months, approximately 100 distinct, interactive workout templates are delivered to your smartphone. The calendar is broken up over 9 six-week phases (workouts are scheduled 5 days/week).
You have access to an additional calendar with a robust menu of unexpectedly powerful home/travel-based workouts, with or without special equipment. 
All of the other phases happen at the gym. Each phase has a distinct focus. I fold sophisticated, nuanced regimens in with classic, staple bodybuilding modules. The result is that you build muscle and drop body fat, annually … with fewer injuries.
---
2. Physique Fundamentals (the education curriculum)
DreamBody also lays flat and clear before you the guidelines and roadmap for changing and sustaining how you eat and live, so that you build muscle and drop body fat, annually, in perpetuity. 
(All you need to do to improve your physique is build muscle and drop body fat, by the way. I know it feels more complicated than that, but I promise you, it is not.)
DreamBody accomplishes all of this with a rigorous 13 lesson curriculum: Physique Fundamentals. 
Physique Fundamentals walks you step-by-step through a distilled education on everything you need to learn, re-learn, and habitualize to earn your DreamBody. We cover protein, dietary fat, carbohydrates, fiber, recovery, supplements, self-discipline, self-forgiveness, hydration, proper workout form and pace, workout scheduling and prioritization, food shopping, food prep, and how to gradually or quickly integrate systematic food logging into a comfortable daily lifestyle.
Each of these lessons are comprised of best guidelines and practices for the general population, with recommendations on how you can experiment with and customize your regimen to ultimately find the right fit for your individual needs.

Approx. four hours of video coursework with me are one of the features of the curriculum. The program is accessible by all, since each audiovisual lesson is accompanied by a transcript.
Since you have unlimited, 'Evergreen' access to the education, you control how quickly or slowly you move through this 13 lesson curriculum, Physique Fundamentals.
---

3. Workout Concierge (personalized workout advice)
DreamBody Evergreen reserves you on-demand access to me as your personalized workout concierge. 
I answer every question you'll have as you work through your DreamBodybuilding Calendar. I'll include my thoughts on the weights you're using, the intensity you're applying, and even give you form and pace feedback on clips you record and send me that show you performing your exercises.
Each of these services replenish annually, at no additional cost to you.
---
Bonus Option: Nutrition Prescription 
You may add a fourth feature to your DreamBody Evergreen program: a monthly subscription known as Nutrition Prescription.
With this service, I'll view your progress photos and measurements, and use that data to provide you with customized nutrition prescriptions. 
12 consecutive months in Nutrition Prescription qualifies you for my "10+ Pound Results Guarantee." This equates to a guaranteed minimum body composition improvement of 10 pounds (or more) in your first year (or less). 
(Positive body composition change = pounds of muscle added + pounds of body fat lost.
For example: lose 8 lbs of fat + gain 6 lbs of muscle =  14 lb body composition change.)
* To qualify for this guarantee, you must sustain 4 behaviors throughout your first year.
---
About your teacher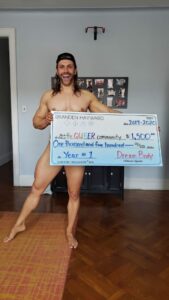 Hi! I'm Branden. Since 2018, I've gained ~10 pounds of muscle and lost ~8 lbs of fat. 
I've worked in New York City since 2011 as a personal trainer, nutrition coach, and online physique coach. I've noticed some patterns from working with clients (some of whom you'll hear from, coming up) … and it's off these patterns that I've built DreamBody Evergreen.
I'm uniquely qualified to help you push through your perfectionism and leverage your motivation to turn your self-doubt into self-belief.
DreamBody School has donated $1,500 to the LGBTQ+ nonprofit organizations The Trevor Project and SAGE. 
My work has been featured in several prominent magazines / outlets, some of whom have referred to me as one of / the best personal trainer for the LGBTQ+ community. These outlets include:





---
Next step:
Or, you can navigate directly to your desired page by using the menu attached at the top of your screen.