Welcome, Handsome, to the
The DreamBody Challenge
a six month online physique coaching program that transforms your workouts, your diet, your life, and our community
with Branden Hayward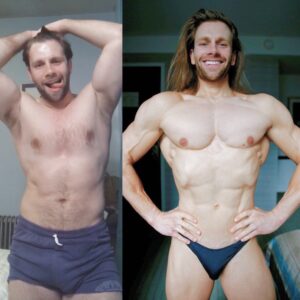 THE CHALLENGE WAS BORN OUT OF ANGER
Hey! I'm Branden.
In June of 2018, I looked at shirtless photos of myself.  I saw joy splashed across my face.
But I felt anger when I studied my physique in the photos.
I'd been lifting weights for years, and had muscle mass.
But where was … why didn't I have that circuit-boy, quintessential Adonis body I'd craved for so long…?!
My first instinct was to reach for a substance to fix the problem.
HGH, I thought.
Sitting across the kitchen table from a stunningly well-built man in Fire Island a few days later, I discovered the actual cost of Human Growth Hormone. Pearls were clutched.
What was I going to do? I considered rearranging my life to fund HGH.
It occurred to me there was one route I hadn't taken yet.

I had worked alongside a colleague years earlier who had a stunning physique. "One day, I realized I was ready to go all in," had been his response when I'd asked him how he'd earned his physique.
Doing it the old-fashioned way – hard work – was decidedly less sexy than HGH.  But it also was a lot cheaper and less risky.
So, I looked that former colleague up. He had moved to Denver.
Would it even work to have someone coach me who lived 2,000 miles from me? He said it would, if I was all in.
Through the use of two smartphone apps, he began overhauling my diet and guiding me through a series of progressive workout phases.
Within a few months, I felt like Cinderella, in that epically recognizable moment of profound aesthetic transformation.
But it wasn't my temporary clothes that were transforming.
It was my permanent body.

WHAT THE CHALLENGE DOES
I designed the DreamBody Challenge using the same technology my coach, Chris, uses with me.
The Challenge stewards each participant in the process of developing – and sustaining – three aesthetic goals:
Broader, thicker pecs, arms, shoulders, and back.  
A tighter, more carved midsection.
A higher, more bubbly ass.
I've imbued the entire process with the empathy and compassion that we as gay men desperately need when it comes to the sometimes fraught relationship that so many of us have with our bodies,  our hearts, and our psyches.

THE CHALLENGE IS RISK FREE
There is a risk-free, 2-week-opt-out guarantee included in the Challenge.
You may try the technology before enrolling.
Enrollment will only be from September 18-22, 2019.
YOUR TUITION GIVES BACK
The Challenge gives back to our community, and to date, we have donated $1,200 to The Trevor Project. (Photos of receipts at very bottom of this page.)
SAGE, an advocacy group for LGBTQ+ elders, has been selected as the beneficiary for the 2019-2020 Challenge.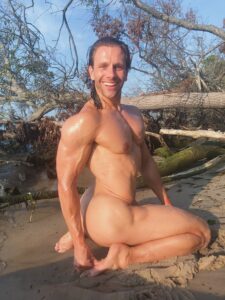 YOUR NEXT STEP
My members (email subscribers) save $918 off the sticker price of this service. They pay under $5/day.
When you sign up to become a member, you automatically receive a free subscription to my weekly Build-your-Self article series. They cover topics of bodybuilding, self-love, and diet. I reach out with these articles every Thursday evening, and occasionally at other times if there is something exciting going on. I never spam or sell my list.
Please select one of the two following options to continue in your process.
Or,  if you're ready to enroll now:
If you have serious questions that are not answered in the above links, feel free to text me directly at 1-917-858-1365

Not interested in the Challenge now? Don't leave without getting a membership for free, weekly, curated education! CLICK HERE
My aim is to become your secret weapon that helps you fall in love with your body, and your life. Even if you never buy anything from me, you'll be inspired to tell your most treasured friends about my work. And that's how we all grow, together.
Want more information before subscribing or enrolling?
CLICK HERE for exclusive access to my Vault  of past Build-your-Self articles. For your eyes only – please don't share! This is a great way for you to get a sense of my personality, professionalism, consistency and experience, before raising your hand to become a member.
CLICK HERE to visit my homepage to view (well-known) client testimonials, a list of my credentials, my origin story, and other services I offer.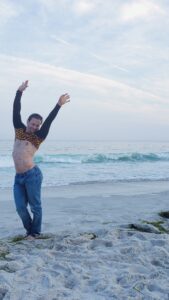 With love, and self-love,
Branden