DreamBody School 2020-21
with Branden Hayward
WHY I STARTED DreamBody School
Hi. I'm Branden. I'm a personal trainer and nutrition coach in New York City.
My earliest childhood fantasy was of being adored. I yearned to be the life of the party, but beyond that, I envisioned that having a magnificent physique would be my gateway to freedom, joy, and power. This ambition did not wither with age.
After spending my first adult years as an actor, I turned to personal training in 2011 as a result of financial insecurity. I liked working with people, and had learned a great deal about physique enhancement before switching careers.
In late 2016, five years into my career as a coach, I became heavily involved with activism. In June of 2017, I bottomed out on anger, grief and suicidal thoughts. I made a decision to disconnect from activism, and focus on saving myself.
One year later, during Pride 2018, I was finally feeling full of possibility again. It was then that I saw shirtless photos of myself from atop a Pride float. I saw unbridled joy on my face. But when I looked down at my torso, I did not feel pride.
I'd avoided a truly massive physique overhaul for years out of fear of having to severely limit a great passion of mine: junk food. But, having just spent the last year saving my heart from Hell, I wasn't ready to pause my ascent. I was ready to intensely commit to my most primal urge: developing a physique that would provide me with endless amounts of joy and power.
The physical transformation that commenced from the summer of 2018 invited into my life a seemingly inalienable sense of self-belief which had hitherto eluded me.
As my relationship with my body improved, I finally found the courage to make dramatic changes in my business. I also became more comfortable spending time alone, while cherishing my most important relationships on a deeper level. I felt less obligated to spend money constantly to keep up with the lifestyle of my peers. I started taking professional and romantic rejection less personally.
And, miraculously, I realized that my greatest fear – having to limit junk food – was unfounded.
I created DreamBody School in the Spring of 2019 as a way of providing queer people with the support to build a more beautiful life. DreamBody, while now offered as an open-ended monthly subscription, was initially offered only as a seasonal or six-month commitment. I'm very proud to share that at the end of each season over the last year, at least half of previously enrolled students have opted to continue. So far, DreamBody School has donated $1,500 to LGBTQ+ charities.
The proceeds from this year's new students will be donated to AIDS Walk.
WHAT IT IS 
DreamBody School is an online physique transformation curriculum. 
DreamBody School students use the same two smartphone apps that I have used as a student of my own coach, who lives 2,000 miles from me. My experience as a student has heavily informed the way I've crafted DreamBody School, as has my near-decade of tenure working with hundreds of clients as a personal trainer and nutrition coach in New York City. 
The curriculum's two most significant, constant areas of focus revolve around nutrition habits and weightlifting. The objective of DreamBody School is to provide a comprehensive, individually paced, and farseeing path for each student to build and sustain their own unique, real-life version of the quintessential superhero body. 
DreamBody School (DBS) is offered as an open-ended, recurring subscription. Tuition is billed monthly to a credit card, until cancelled. A 2 month commitment is required up front to enroll. There are three options for subscribing, each offering a distinct level of accountability and individual attention from me, the teacher. 
DBS students have the freedom to upgrade and/or downgrade within the three subscription tiers as they see fit. This allows each student the flexibility to only pay for the amount of outside, professional input that they desire at any given point on their journey. 
HOW IT WORKS 
Upon enrollment, each of my students is provided exclusive access to their own step-by-step, interactive smartphone app. This app hosts my signature workout programs, and guides the student through every warm up, cardio activity, and weightlifting workout. Each workout comes with specific instructions for rest periods, sets and repetitions. Every exercise includes a video demonstration and/or written instructions.
The app encourages each student to enter their workout data – sets, repetitions, and weights – as they complete their workout. It stores this data, and displays this information onscreen, alongside the workout prescription, the next time the student completes the same workout. In this manner, the student is provided an intuitive, convenient way to progress their program, grow stronger, and affect the desired changes in their muscle mass and bodyfat.  
The DreamBody School exercise curriculum progresses every six weeks, and contains an in-app calendar which spells out the recommended cadence for completing the workouts. Each week students have the option of completing up to five distinct weightlifting workouts, as well as cardio and warm up activities. If a student seeks a less demanding workout schedule,  it is easy for the student to delete certain workouts from their calendar.
The app highlights and celebrates personal bests at the end of each workout, and facilitates the uploading of personal progress photos and measurements at six week intervals. As the student begins accumulating multiple sets of progress data, each new set of data is easily juxtaposed with the entire catalogue of the student's historical data. This helps facilitate the student's understanding of their own progress. Additionally, all of this data is visible to myself, the teacher, allowing for data-informed, individualized coaching for those students electing to receive it. 
As of March 2020, there are nine distinct, six-week workout programs that several dozen current and former DreamBody students have benefited from. User feedback has been and will continue to be integrated into the curriculum. The nine workout programs are all themed around our journey as queer people. 
Accompanying 
DreamBody School is thoughtfully priced at a small fraction of the cost of regular in-person personal training. Simultaneously, when compared with personal training, DreamBody School provides a more comprehensive and holistic approach towards physique transformation, and offers the student the flexibility and freedom to go at their own pace.
The investment required for DreamBody School is also significantly smaller than similar investments required by other preeminent online fitness coaches. I researched the monthly tuition required by top coaches in the Eastern U.S., Western U.S., and Australia, and found the average cost to be $353/month. DreamBody School begins at $49/month, and caps at $193/month.
I began focusing on daily macronutrient goals which include large amounts of protein and fiber. This in turn causes my late-day hunger to be much tamer, allowing me to comfortably consume full portions of comfort foods like fast food, desserts, pizza, and more for dinner. I end up actually feeling full at the end of my junk meal, instead of craving more.
I started DreamBody in 2019 as a fusion of two of my biggest passions: enhancing advocacy for the queer community
a six month online physique coaching program that transforms your workouts, your diet, your life, and our community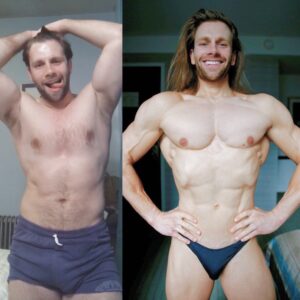 THE CHALLENGE WAS BORN OUT OF ANGER
Hey! I'm Branden.
Two summers ago, I looked at shirtless photos of myself.  I saw joy splashed across my face. But I felt anger when I studied my physique in the photos. I'd been lifting weights for years, and had muscle mass. But where was … why didn't I have that superhero body I'd craved for so long…?!
My first instinct was to reach for a substance to fix the problem. HGH, I thought. Sitting across the kitchen table from a stunningly well-built man in Fire Island a few days later, I discovered the actual cost of Human Growth Hormone. Pearls were clutched. What was I going to do? I considered rearranging my life to fund HGH.
It occurred to me there was one route I hadn't taken yet.

I had worked alongside a colleague years earlier who had a stunning physique. I had once asked him how he'd earned his physique. His response: "One day, I realized I was ready to go all in."
Doing it the old-fashioned way – hard work – was decidedly less sexy than HGH.
But it also was a lot cheaper and less risky.
So, I looked that former colleague up. He had moved to Denver.
Would it even work to have someone coach me who lived 2,000 miles from me? He said it would, if I was all in.
Through the use of two smartphone apps, he began overhauling my diet and guiding me through a series of progressive workout phases.
Within a few months, I felt like Cinderella, in that epically recognizable moment of profound aesthetic transformation.
But it wasn't my temporary clothes that were transforming.
It was my permanent body.

WHAT THE CHALLENGE DOES
I designed the DreamBody Challenge using the same technology my coach, Chris, uses with me.
The Challenge stewards each participant in the process of developing – and sustaining – three aesthetic goals:
Broader, thicker pecs, arms, shoulders, and back.  
A tighter, more carved midsection.
A higher, more bubbly ass.
I've imbued the entire process with the empathy and compassion that we as gay men desperately need when it comes to the sometimes fraught relationship that so many of us have with our bodies,  our hearts, and our psyches.

THE CHALLENGE IS RISK FREE
There is a risk-free, 2-week-opt-out guarantee included in the Challenge.
You may try the technology before enrolling.
Enrollment will only be from September 18-22, 2019.
YOUR TUITION GIVES BACK
The Challenge gives back to our community, and to date, we have donated $1,200 to The Trevor Project. (Photos of receipts at very bottom of this page.)
SAGE, an advocacy group for LGBTQ+ elders, has been selected as the beneficiary for the 2019-2020 Challenge.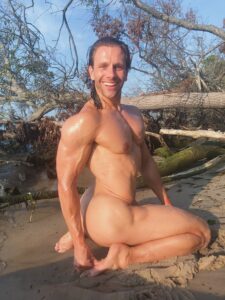 YOUR NEXT STEP
My members (email subscribers) save $918 off the sticker price of this service. They pay under $5/day.
When you sign up to become a member, you automatically receive a free subscription to my weekly Build-your-Self article series. They cover topics of bodybuilding, self-love, and diet. I reach out with these articles every Thursday evening, and occasionally at other times if there is something exciting going on. I never spam or sell my list.
Please select one of the two following options to continue in your process.
Or,  if you're ready to enroll now:
If you have serious questions that are not answered in the above links, feel free to text me directly at 1-917-858-1365

Not interested in the Challenge now? Don't leave without getting a membership for free, weekly, curated education! CLICK HERE
My aim is to become your secret weapon that helps you fall in love with your body, and your life. Even if you never buy anything from me, you'll be inspired to tell your most treasured friends about my work. And that's how we all grow, together.
Want more information before subscribing or enrolling?
CLICK HERE for exclusive access to my Vault  of past Build-your-Self articles. For your eyes only – please don't share! This is a great way for you to get a sense of my personality, professionalism, consistency and experience, before raising your hand to become a member.
CLICK HERE to visit my homepage to view (well-known) client testimonials, a list of my credentials, my origin story, and other services I offer.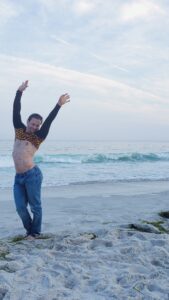 With love, and self-love,
Branden