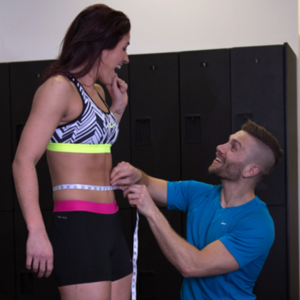 Welcome! I'm Branden.
Do you have a really good body, but feel painfully shy of your DreamBody? 
Maybe someone you trust has led you to me. Maybe, you just found me on the Internet. Or maybe you're already familiar with my work.
One thing's certain. Your fire to change has finally replaced your fear of change.
Here's amazing news. While it may seem your DreamBody requires magic and chemicals, you actually only need:
More muscle.

Less body fat.
It feels more complicated, right? 
It feels like you need to be perfect.
But perfectionism doesn't create results. It prevents them.
And if results can happen for me — a formerly anxious, overeating, self-harmer — they can happen for you, too. 
You've made it through Hell. Now it's time to claim your power, safety and joy. A superhero-pornstar body ushers in those qualities. Why? Because it gives you unshakable self-belief.
And self-belief changes the world.
Think I'm for you? Then:
1. Let me send you a workout to help put 1″ on the upper pecs in just 2 months. It's designed for an overly crowded gym. It avoids bench press and cables. Signup takes 10 seconds. 
Let me teach you the 4 supplements I swear by. It will come in the same email as the workout. Again, this is the link to sign up. 
2. You choose what comes next. Use the menu in the upper righthand corner of your screen.
You make good choices. Whether you hire me, move on, or just consume my free education, it's the right decision. If you're unsure what to do right now, simply bookmark this page. The rest will sort itself out in time. 
Me, too, 
— Branden