Successes, pg. 4 of 4
Losing the "It Won't Happen for Me" Lie: Student and Client Success Stories
---
Assorted Client Progress Photos: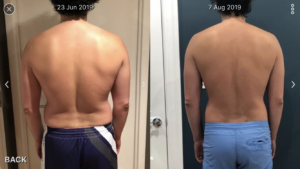 ---
---
---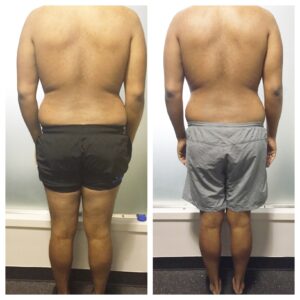 ---
---
---


---
---
---

---
---
---
---
---
---
Michael Nicastro, Restaurant Professional:
"Branden has a great way of listening and showing empathy.  He makes you feel important.
I wanted to work with someone that I could trust. He definitely practices what he preaches.
The training app itself was clear and easy to understand. I felt I was not alone and had a support system to push me through. I recommend his program. It's a great way to achieve your goals, especially when you would like to do it on your own schedule.  The flexibility aspect was great."
(The following interview was conducted in 2020; several features of DreamBody have been revised and expanded since.)
Time marker – Topic:
3:37 – Michael's story
4:41 – Bodybuilding at home / with Covid19 (also, at 14:40)
8:15 – Don't make this common mistake with the weight scale
9:30 – Online help can't really compare to personal training … right? 
11:04 – Problem solved: convenience
13:08 – 80% of would-be bodybuilders are sunk by this mistake
13:44 – Finding your fire (also, at 20:00)
17:44 – Using food to hate yourself? Get relief, here.
---
---