A personal trainer, in your pocket.
Meet Workout Concierge.



---
Let's briefly revisit your workouts.
On the other end of your workout app, I'm available to you. Through every step of your exercise and weightlifting journey. This service is called Workout Concierge.

All the data you upload into your workout app becomes visible to me. This lets me provide customized answers to every single one of your workout questions.
Whether you're feeling stuck, or just need validation you're on track, the solution's simple. Just tap a little icon on your workout screen that shows my face. Then, ask away.

Perhaps best of all: you can send me videos of you completing the movements. I'll give customized feedback on each.
---
---
---
Examples: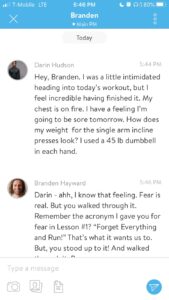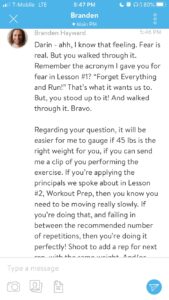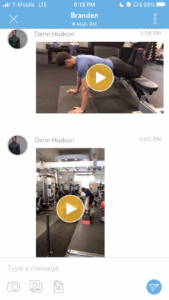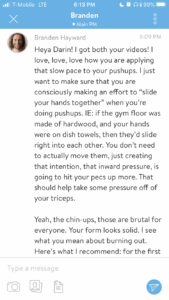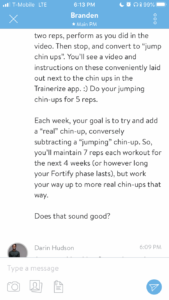 ---
---
Next Up:
..
Rather visit some other DreamBody page? If you're reading this on a computer, just look up. You'll find the drop-down menu by hovering over the bright green **DREAMBODY** tab. If you're on a mobile device, find the **DREAMBODY** drop-down menu by visiting the three horizontal bars in the upper righthand corner of your screen.